Progress Report on RSC of the 2030 Agenda
Unexport published its CSR Progress Report in early April through the Spanish Network of the United Nations Global Compact for the second consecutive year.
We renew once again the initiative of the Global Compact and the ten Principles on Human Rights, Labor Standards, the Environment and the fight against Corruption. Furthermore, we have informed and will continue to promptly communicate this commitment to our partners, stakeholders and the general public.
This Progress Report describes Unexport's efforts to apply the establishment of the ten Principles and to get involved with the United Nations Global Compact, in addition to generating actions linked to the 2030 Agenda and the Sustainable Development Goals.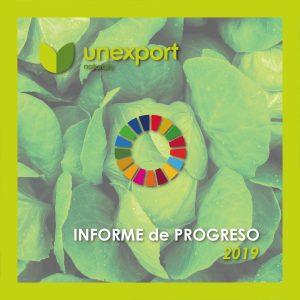 During the past year the Unexport team has been introduced to CSR and participated in training activities for the Spanish Network of the Global Compact on Human Rights and published the first Sustainability report. Among the results, the maintenance and measurement of social actions, the implementation of data protection and an equality plan, the generation of an environmental study and report, health training for workers and the contracting of health insurance for the Fixed company personnel and also the initiative to establish a Compliance program that is maintained as an objective, along with the investment in solar panels for the organization's self-consumption, among other actions and initiatives.